Auto Body Panels
If you're looking for auto body repair panels for your car or truck, you've come to the right place. Black Car can supply auto body repair panels for vehicles from the 1950's to many current late models. We can also help you find body panels (and other parts) for vehicles from the 1920's on up.
Links to our auto body panels by make:
We've included the following body panel diagram to quickly show you some of the different types of panels we can supply. When you start looking for the body panel you need, please be aware that not all panels are shown or listed on our web site, so if you do not see what you are looking for just ask.
Images of panels on our web site are a representation of the part for reference purposes, the actual part may vary.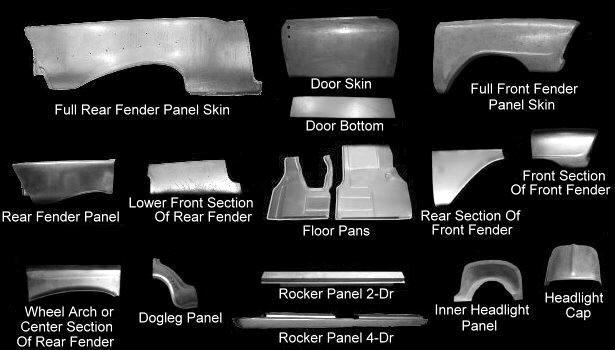 Many of the panels we offer were discontinued being manufactured years ago, therefore many of these panels cannot be replaced. If there is not a panel available for your vehicle, we can help you try and locate the part from a salvaged vehicle. Please note that some of these older obsolete panels do show there age with some surface rust, but don't be discouraged they are solid panels and the surface rust can be cleaned up.
When you inquire about a specific body panel, please specify the side you need. For reference purposes and to minimize confusion on orders, we observe the following standard:
This is especially important to those customers that have right hand drive vehicles.